With the impending closing of the SL forums I'm joining the herd and I created this blog to tell of Analise sales, events, new products etc. So welcome! and I'll do my best to keep it throughly updated as possible.
First up brand new silk in the Main Shop this weekend; Lilith's Rise. A sort of sequel to my very popular Lilith silk.
The set inculdes, Solid top, Sheer top, panty, armbands with flexi and scripted flexi skirt in small and medium sizes.
Not just any script either, oh no :) Naughty with a Click verison 2.0! More options, more expressions and more fun! You gotta see it I'm so proud! All new scripted items from here out will have the new script and I'll write up a how-to very soon on how to convert previous purchases. Just remember the script only works in Analise products. ;)
Hopefully this blog will allow me to give some helpful info on adusting prim skirts and maybe it'll help someone...somewhere.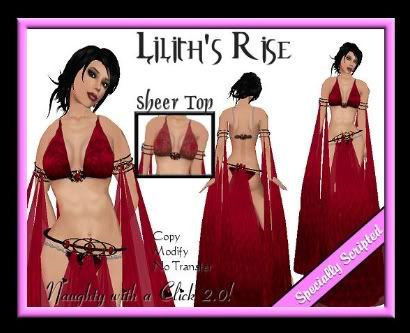 Click here! if your in game for a tp to the Main shop in Charissa